Our chili gummy bears are absolutely delectable and will take your taste buds on an adventure. When was the last time you ate something that was like a surprise party in your mouth?

First our chili gummy bears come in with a spicy and sour taste, then they melt in your mouth into an addictingly sweet sensation.

You'll be reaching back into the bag before you even swallow the first one.


• Size: 8oz
• Spice tolerance: Mild (Sour with a hint of spice)
• Ingredients is available as an image. Please check additional images for the nutrition panel.
• Allergen Information: Contains Wheat 
• Contains Gelatin
• Refunds / Exchanges: Not allowed due to this product being a consumable item.
ORDER STATUS
You will receive a shipping confirmation email / text as soon as your order has been shipped. Please allow 24 hours for the system to update the tracking status.
ORDER PROCESSING TIME
All orders are processed to be shipped within 1-3 business days. We try our very best to make sure our orders are shipped immediately but please allow processing time as we make fresh batches of #lilyschilies every week to ensure you get a quality product. Please note holidays and weekends may delay your shipment!
STANDARD SHIPPING TIME
We are offering FREE standard 4-6 business days shipping site wide (limited time only) on all 8oz candy bags. Upgraded faster shipping options available upon checkout. Gift boxes and platters will have a shipping and handling charger unless over $49.95.
Standard shipping is shipped from Los Angeles via USPS within the United States for $5.95. Please note, shipping time may vary depending on location and distance from Los Angeles. 
Please be mindful that shipping time may be delayed an extra 1-3 business days during holiday season.
EXPEDITED SHIPPING
Expedited shipping is available upon checkout which will allow you to choose Priority shipping (1-3 business days) at $5.95.
INCORRECT / MISSING SHIPPING INFORMATION
All orders will be shipped to the address provided by the customer upon placing your order. We are not responsible for missing/incorrect shipping information. If your package is lost, stolen, missing from your delivery address, please follow the link below to submit a missing mail search.
https://www.usps.com/help/missing-mail.htm
If a package is returned to Lilys Chilies due to an incorrect shipping address, we will refund you only on the merchandise. Initial shipping cost will not be refunded.
INTERNATIONAL SHIPPING
We don't ship outside of USA at this time, thank you for your interest in our candies :)
Customer Reviews
Write a Review
Ask a Question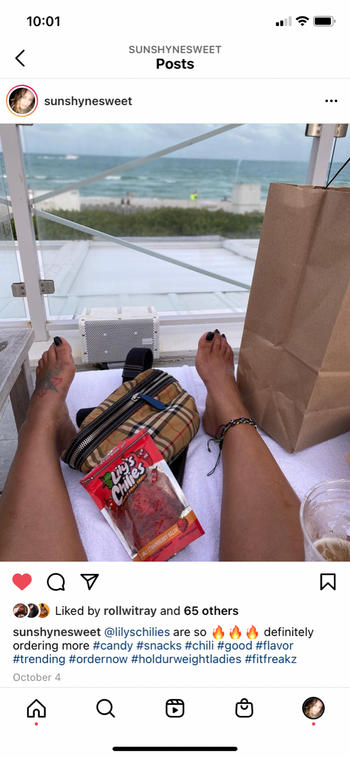 12/13/2020
More
They are amazing and I have ordered them for all my friends
Tina L.

United States
08/28/2023
Delicious
Tasty, soft, and just the right amount of spice
Derek C.

United States
07/31/2023
Happy but melted
The taste was amazing but it was delivered on a hot day and the product was all melted together. It came out in big chunks and kinda ruined the experience. I had to toss it. The little I had was 10/10 though. This wasn't your fault on your end but the deliver company.
Mark a.

United States
07/11/2023
Amazing
Once we opened the bag we couldn't stop!! They are oh so yummy!! Will be ordering again!!!
Evelyn A.

United States
05/29/2023
Favorite Candy Hands Down!
I have 3 favorites that I just have to have at home: strawberry belts, sour patch kids & gummy bears!
Bernadette G.

United States
05/05/2023
Happy
I've been looking for a candy like this for a while. I am a repeat customer. Already placed two orders.
Souphavady I.

United States
04/01/2023
Addicted
Love these! Regular customer now
TIFFANY H.

United States
03/20/2023
Lucky find!
Bought these for my stepdaughter and I ended up loving these as well. I typically dislike anything with chili flavored. Definitely will order again!!
Jahlil L.

United States
03/11/2023
Great
This is my favorite candy now! It's such a unique burst of flavor! Sweet Sour and a hint of Spice. Whoever decided to put these flavors together is genius! I've ordered several times and shared with friends, family and coworkers!! Sooo Yummy!
Anitra G.

United States
11/08/2022
They're good, I'm just not sure it's the best combo you have.
Ethan V.

United States
07/19/2022
Droolicious
Absolutely delicious. I should've bought more.
Jason M.

United States
06/28/2022
Wonderful
Best tasting candy ever!!
Paul K.

United States
04/13/2022
Excited
Really great quality candy and great customer service!
Noor A.

United States
03/16/2022
Perfection at its finest
The Goat lol Good things aren't meant to last But please don't ever take these away I'll cry
Brandon H.

United States