A sweet southern belle, these chewy gummy peaches have just enough spice. Chili and peach are the unexpected duo to transform your taste buds.

The soft, chewy texture gives you the perfect combination of sweet and tangy.. Don't miss out on this succulent treat.
• Size: 8oz
• Spice tolerance: Mild (Sour with a hint of spice)
• Ingredients is available as an image. Please check additional images for the nutrition panel.
• Contains Gelatin
• Refunds / Exchanges: Not allowed due to this product being a consumable item.
ORDER STATUS
You will receive a shipping confirmation email / text as soon as your order has been shipped. Please allow 24 hours for the system to update the tracking status.
ORDER PROCESSING TIME
All orders are processed to be shipped within 1-3 business days. We try our very best to make sure our orders are shipped immediately but please allow processing time as we make fresh batches of #lilyschilies every week to ensure you get a quality product. Please note holidays and weekends may delay your shipment!
STANDARD SHIPPING TIME
We are offering FREE standard 4-6 business days shipping site wide (limited time only) on all 8oz candy bags with orders above $24.99. Upgraded faster shipping options available upon checkout. Gift boxes and platters will have a shipping and handling charger unless over $49.95.  
EXPEDITED SHIPPING
Expedited shipping is available upon checkout which will allow you to choose Priority shipping (1-3 business days) at $5.95.
INCORRECT / MISSING SHIPPING INFORMATION
All orders will be shipped to the address provided by the customer upon placing your order. We are not responsible for missing/incorrect shipping information. If your package is lost, stolen, missing from your delivery address, please follow the link below to submit a missing mail search.
https://www.usps.com/help/missing-mail.htm
If a package is returned to Lilys Chilies due to an incorrect shipping address, we will refund you only on the merchandise. Initial shipping cost will not be refunded.
INTERNATIONAL SHIPPING
We don't ship outside of USA at this time, thank you for your interest in our candies :)
Customer Reviews
Write a Review
Ask a Question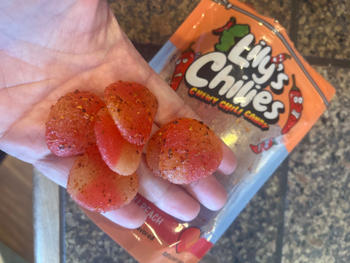 01/25/2023
Delicious
Bought these peach candies and some watermelon. Just enough spice to the sweet taste. My husband loves these one more than the watermelon ones. Super quick delivery!!
Harmony D.

United States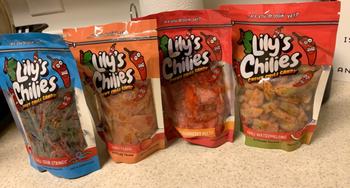 06/18/2021
Sorry
Ok I just want to start off by saying I absolutely LOVE Lily's Chili's! My fav is definitely the strawberry belts and to prove it I've ordered them several times! But I'm sorry to say that I just did not like the peach gummies at all. I usually order the strawberry belts and watermelon chews(which are also yummy) but this time I wanted to try something new and I have to say I will not be purchasing this flavor again due to the fact that they are just too sweet for my liking and hardly any chili flavor. I will still however order the strawberry belts and next time I'm going to purchase the belts trio so I can try the green apple and blue raspberry belts! Can't wait!
Brilachelle

United States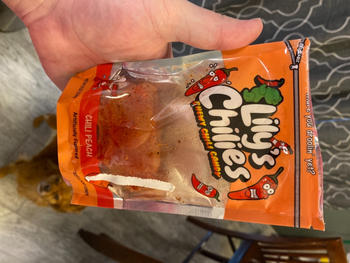 06/17/2021
Joy
The candies were exceptional. The gummy bears were what I expected but the peach and watermelon gummies were amazing. 10/10. They hold the chili powder mixture very well and it tastes amazing. From no fault of the company my gummies were mailed and put in the mailbox on a 97 (F) degree day and a lot of it melted but it was still edible and delicious.
Robert W.

United States
03/08/2023
Tasty
I loved them so much.
Terri G.

United States
02/27/2023
Overjoyed
I am never left wanting or feeling like I didn't get enough from your products. Every treat I've ordered from you has been delicious and I get more from you than I get from other companies at the same price. Thank you!
Brie L.

United States
07/12/2022
Amazing
My fav candy ever thx lilys chilies
Kshakan R.

United States
01/07/2022
Great
They are amazingly delicious
Jesse A.

United States
12/27/2021
tasty
This gummy is not my personal favorite but my sister loves it, we both felt that most of the gummies we ordered needed a lot more powder or chamoy…but the flavors were amazing.
Arpa G.

United States
12/04/2021
The best there is
Excelente quality
Fidencio F.

United States
12/03/2021
Happy
Definitely addictive
Christopher P.

United States
11/20/2021
I am so happy I ordered
Delicious, not overwhelming- Perfection
Joanna A.

United States
11/18/2021
All right
I did not get what I ordered except the peach I wanted the fruit roll and I got plum I tried one it was awful.
Linda M.

United States
11/16/2021
I get my peaches out from LA lol
The best peach gummies I've ever had. Period.
Cristal G.

United States
11/16/2021
Tasty
Love it. It's really good. Sweet and spicy
Erica R.

United States
11/11/2021
Couldn't stop eating
The chili peach gummies were delicious. Possibly my new favorite candies.
Jon H.

United States