What's not to love about our sweet, sour gummy belts? You can chew them, suck on them, wrap them around your finger and let them melt in your mouth.

With a mix of chili blueberry belt, chili strawberry belt, and the chili apple belt, there's something for everyone, or just enough for one person if you want to be a little indulgent.

Once it's all gone, you'll be counting the days until you can get another platter.
• Size: 7" Platter, Net Weight 16 oz/1 lb
• Spice tolerance: Mild (Sour with a hint of spice)
• Ingredients is available as an image. Please check additional images for the nutrition panel.
• Allergen Information: Contains Wheat 
• Refunds / Exchanges: Not allowed due to this product being a consumable item.
ORDER STATUS
You will receive a shipping confirmation email / text as soon as your order has been shipped. Please allow 24 hours for the system to update the tracking status.
ORDER PROCESSING TIME
All orders are processed to be shipped within 1-3 business days. We try our very best to make sure our orders are shipped immediately but please allow processing time as we make fresh batches of #lilyschilies every week to ensure you get a quality product. Please note holidays and weekends may delay your shipment!
STANDARD SHIPPING TIME
Standard shipping is shipped from Los Angeles via USPS within the United States for $5.95. Please note, shipping time may vary depending on location and distance from Los Angeles. 
Please be mindful that shipping time may be delayed an extra 1-3 business days during holiday season.
EXPEDITED SHIPPING
Expedited shipping is available upon checkout which will allow you to choose Priority shipping (1-3 business days) at $7.95.
INCORRECT / MISSING SHIPPING INFORMATION
All orders will be shipped to the address provided by the customer upon placing your order. We are not responsible for missing/incorrect shipping information. If your package is lost, stolen, missing from your delivery address, please follow the link below to submit a missing mail search.
https://www.usps.com/help/missing-mail.htm
If a package is returned to Lilys Chilies due to an incorrect shipping address, we will refund you only on the merchandise. Initial shipping cost will not be refunded.
INTERNATIONAL SHIPPING
We don't ship outside of USA at this time, thank you for your interest in our candies :)
• SHIPPING F.A.Q.
When will I receive my order?
It typically takes about 1-3 business days to process your order and 2-5 business days for our orders to get to our customers.

How much does shipping cost?
The cost of shipping is $5.95 to all 50 states and $7.95 for expedited shipping. All orders of $49.95 or more automatically get free shipping. No catch!

Do you offer international shipping?
At this time, we unfortunately do not offer any international shipping. Our products only ship to the United States.

Late or missing items
If an item you have purchased has not been delivered after 7 business days, please contact us at lilyschilies@gmail.com

If an item is missing from your order, please contact us at lilyschilies@gmail.com

Customer Reviews
Write a Review
Ask a Question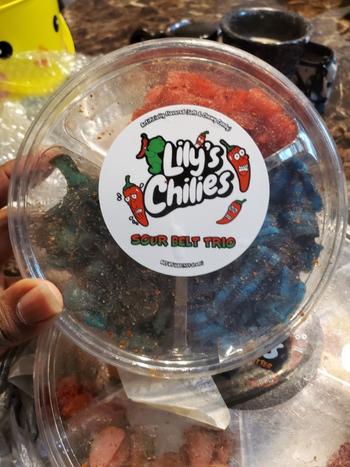 05/05/2021
A-F'n-maze'n
I am a huge sour candy fan. I drool'd at the sight of the platter. It did NOT disappoint. A wonderful blend of spice flavor, twang & sweet. Nice twist to a favorite of mine
Rodriguez P.

United States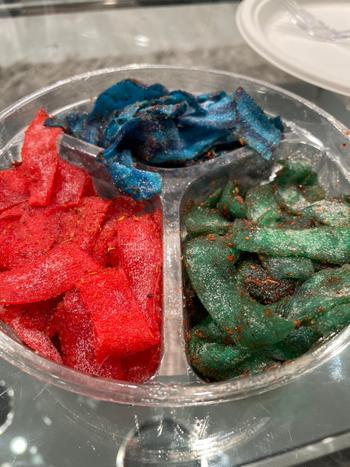 04/29/2021
Disappointed
There was barely any spice on the candy. I contacted and received no response =/
Inna B.

United States
08/05/2022
Betrayed
I never received my order. It said it wasn't deliverable. I used both a P.O. Box and my street address and never received it! Can someone help me out here
07/26/2022
happy
yummersyummersyummersyummers
Madeline E.

United States
07/26/2022
Ok
I was really excited to try the new candy but wasn't too satisfied. I was expecting them to be a little more spicy but more covered in chili powder, they were a bit too sticky for my taste
Diane R.

United States
06/18/2022
SO GOOD
i ate all of it by myself. Im not proud but i am satisfied.
Louiza A.

United States
01/27/2022
DELICIOUS
These are my favorite candies in the world!! I kept seeing an ad and I thought to myself why not?! No regrets!! When that sweet spicy feeling hit my tongue I was amazed!! My mouth waters just thinking about it! I took some to work and everyone loves them!! I'll be buying more real soon!!
Karen B.

United States
12/24/2021
Can't get enough!!
This is my 3rd order! They never disappoint they are fresh and the perfect amount of flavor.
Teena M.

United States
12/09/2021
Amazing
I'm so glad I ordered some after seeing it advertised on TikTok. These thangs are good as **** shouts out to Lily for a whipping this premium crack up. I'll be buying more abs so will my friends.
Aeon P.

United States
08/17/2021
BOMBSKIES
Fast shipping and so much candy it's so good
Valerie G.

United States
07/22/2021
Happy
Red and green strips are wonderful
Christopher M.

United States
06/21/2021
Worth the try
The taste and flavors were good of the trio belt sampler.. they were a little stuck together and kinda hard to get to but it was also a very hot day (and has been hot in general every day recently) so I think the heat helped contribute them sticking to themselves but the flavor was good. Love the slight spice .. would buy again and worth the try. Delivered on time and easy ordering process
Kirstie w.

United States
05/13/2021
Yummmm
Fast delivery, and so delicious!
Marcos O.

United States
05/10/2021
Obsessed
In love with these candies! It didn't last long I had to order a couple to last me!
Jessica S.

United States
05/09/2021
Happy
The only gift I could think of wanting over and over again. I need a whole case of this stuff.
Suzanna S.

United States