If you've been looking for a way to get more and spend less, we have some good news. Here you can pick up a variety pack with a series of 4 oz bags in all our most popular flavors.

Our variety pack is available as a subscription or a one-time purchase. You can choose which variety you want from two bags to seven bags, and you'll be saving MORE!

With flavors available like our strawberry belts, our chili watermelon. our chili gummy bears, and more, you'll no longer have to sit around dreaming of exquisite taste, now you can have it whenever you want it.

Here are the flavors for each bundle:

- DUO = 2 (4oz) Bags
🍏 Chili Apple Belts
🍉 Chili Watermelon
- OG = 3 (4oz) Bags
🍓 Chili Strawberry Belts
🧸 Chili Gummi Bears
😍 Chili Sour Kids
- LILY'S FAVORITES = 4 (4oz) Bags
🍓 Chili Strawberry Belts
🍉 Chili Watermelon
🧸 Chili Gummi Bears
👍 Chili Blueberry Belts
- CHAMP = 7 (4oz) Bags
🍓 Chili Strawberry Belts
🍉 Chili Watermelon
🧸 Chili Gummi Bears
😍 Chili Sour Kids
🍑 Chili Peach
👍 Chili Blueberry Belts
🍏 Chili Apple Belts
• Spice tolerance: Mild (Sour with a hint of spice)
• Allergen Information: Contains Wheat, Contains Gelatin
• Refunds / Exchanges: Not allowed due to this product being a consumable item.
ORDER STATUS
You will receive a shipping confirmation email / text as soon as your order has been shipped. Please allow 24 hours for the system to update the tracking status.
ORDER PROCESSING TIME
All orders are processed to be shipped within 1-3 business days. We try our very best to make sure our orders are shipped immediately but please allow processing time as we make fresh batches of #lilyschilies every week to ensure you get a quality product. Please note holidays and weekends may delay your shipment!
STANDARD SHIPPING TIME
We are offering FREE standard 4-6 business days shipping site wide (limited time only) on all 8oz candy bags. Upgraded faster shipping options available upon checkout. Gift boxes and platters will have a shipping and handling charger unless over $49.95.
Standard shipping is shipped from Los Angeles via USPS within the United States for $5.95. Please note, shipping time may vary depending on location and distance from Los Angeles. 
Please be mindful that shipping time may be delayed an extra 1-3 business days during holiday season.
EXPEDITED SHIPPING
Expedited shipping is available upon checkout which will allow you to choose Priority shipping (1-3 business days) at $5.95.
INCORRECT / MISSING SHIPPING INFORMATION
All orders will be shipped to the address provided by the customer upon placing your order. We are not responsible for missing/incorrect shipping information. If your package is lost, stolen, missing from your delivery address, please follow the link below to submit a missing mail search.
https://www.usps.com/help/missing-mail.htm
If a package is returned to Lilys Chilies due to an incorrect shipping address, we will refund you only on the merchandise. Initial shipping cost will not be refunded.
INTERNATIONAL SHIPPING
We don't ship outside of USA at this time, thank you for your interest in our candies :)
Customer Reviews
Write a Review
Ask a Question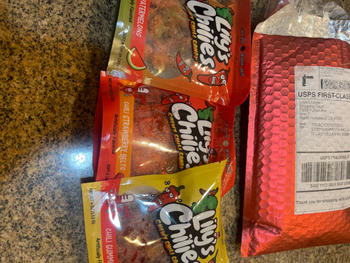 02/06/2023
Disappointed
Love the candy it's finger liking good, but disappointed! on the shipping!! As I'm in Las Vegas and was shipped from California and took 10 days to get here also only received 3 bags as in the photos of variety pack shows 4 bags
Issac C.

United States
03/17/2023
Cute
It's a cute bundle pack and perfect size to add in gift bags.
Mai T.

United States
03/08/2023
Satisfied
I received the wrong order by accident. Lilys chilies's customer service was top notch. Appreciated the quick response!
Sunshine C.

United States
02/27/2023
Delicious
Love the candy! only thing I would suggest is letting your customer pick there order out if they are getting variety pack Or having a option like that
Issac C.

United States
02/24/2023
She loved them!
They were a hit ! Great job
Steven L.

United States
02/05/2023
Delicious
I got the variety pack and I loved everything except the peaches. But that is a personal preference because I just don't like peach flavored stuff very much. Everything else was super good. Definitely ordering more in the future
Ashley G.

United States
02/01/2023
I love this candy!!!
I really enjoyed every kind in the variety pack. The chili belts are probably my favorite! So good! I'll definitely order again!
Elizabeth H.

United States
01/28/2023
Absolutely delicious!!
I got the kids and strawberry belts and they were so good that I will never eat plain old sour patch kids again! I really can't believe all of the flavor I've been missing out on!
Bernadette G.

United States
01/25/2023
satisfied
Very tasty, wish it could've had a little more chilly on it.
Alina F.

United States
11/18/2022
Happy !
The candy was very good. I loved the gold packaging, although when you by the variety pack online, it looks like you will receive the larger packs and you actually receive the smaller ones which makes sense, but that should be a little more stated in the pictures. Also though the candy would be slightly more spicy. I realize the candy all has one default spice level, so it would also be nice to have spicier options. Besides those minor things, everything was great ! And the candy was super good.
Samantha K.

United States
09/06/2022
Delicious
Watermelon chili pack was really really good. 10/10 would recommend
Dennis M.

United States
08/15/2022
Amazing
I usually finish the big bags and then regret it because I'm full but these were perfect sizes. Enoug to have a good taste and wasn't too much
Jorge H.

United States
07/26/2022
Yummy
Loved the Champ variety pack, I split with my 13yr old niece and we were fighting over them. We both love the sweet and spicy, 10 out of 10 will be buying again.
TIFFANY R.

United States
07/21/2022
Satisfied
Really tasty! The flavoring was perfect!
Shane P.

United States
05/19/2022
Satisfied
The belts are not good but the bears, kids and peaches are great. 3 stars.
Nick H.

United States