If you've been looking for a way to get more and spend less, we have some good news. Here you can pick up a variety pack with a series of 4 oz bags in all our most popular flavors.

Our variety pack is available as a subscription or a one-time purchase. You can choose which variety you want from two bags to seven bags, and you'll be saving MORE!

With flavors available like our strawberry belts, our chili watermelon. our chili gummy bears, and more, you'll no longer have to sit around dreaming of exquisite taste, now you can have it whenever you want it.

Here are the flavors for each bundle:

- DUO = 2 (4oz) Bags
🍏 Chili Apple Belts
🍉 Chili Watermelon
- OG = 3 (4oz) Bags
🍓 Chili Strawberry Belts
🧸 Chili Gummi Bears
😍 Chili Sour Kids
- LILY'S FAVORITES = 4 (4oz) Bags
🍓 Chili Strawberry Belts
🍉 Chili Watermelon
🧸 Chili Gummi Bears
👍 Chili Blueberry Belts
- CHAMP = 7 (4oz) Bags
🍓 Chili Strawberry Belts
🍉 Chili Watermelon
🧸 Chili Gummi Bears
😍 Chili Sour Kids
🍑 Chili Peach
👍 Chili Blueberry Belts
🍏 Chili Apple Belts
• Spice tolerance: Mild (Sour with a hint of spice)
• Allergen Information: Contains Wheat, Contains Gelatin
• Refunds / Exchanges: Not allowed due to this product being a consumable item.
ORDER STATUS
You will receive a shipping confirmation email / text as soon as your order has been shipped. Please allow 24 hours for the system to update the tracking status.
ORDER PROCESSING TIME
All orders are processed to be shipped within 1-3 business days. We try our very best to make sure our orders are shipped immediately but please allow processing time as we make fresh batches of #lilyschilies every week to ensure you get a quality product. Please note holidays and weekends may delay your shipment!
STANDARD SHIPPING TIME
We are offering FREE standard 4-6 business days shipping site wide (limited time only) on all 8oz candy bags with orders above $24.99. Upgraded faster shipping options available upon checkout. Gift boxes and platters will have a shipping and handling charger unless over $49.95.  
EXPEDITED SHIPPING
Expedited shipping is available upon checkout which will allow you to choose Priority shipping (1-3 business days) at $5.95.
INCORRECT / MISSING SHIPPING INFORMATION
All orders will be shipped to the address provided by the customer upon placing your order. We are not responsible for missing/incorrect shipping information. If your package is lost, stolen, missing from your delivery address, please follow the link below to submit a missing mail search.
https://www.usps.com/help/missing-mail.htm
If a package is returned to Lilys Chilies due to an incorrect shipping address, we will refund you only on the merchandise. Initial shipping cost will not be refunded.
INTERNATIONAL SHIPPING
We don't ship outside of USA at this time, thank you for your interest in our candies :)
Customer Reviews
Write a Review
Ask a Question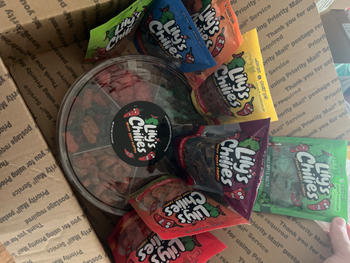 03/27/2023
Ecstatic!
Love all the products! All have amazing unique taste. Chili Lavashak delicious!
Murphy C.

United States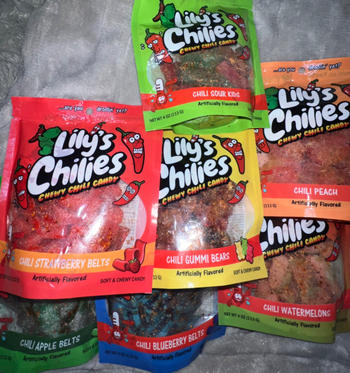 03/27/2023
Just the perfect chili taste!
I got the variety pack and it had the perfect amount of chili! It's not to sour or tangy! My fave are the sour belts! Yum.. will order more for the future and the best part… no S&H!
Pengsy W.

United States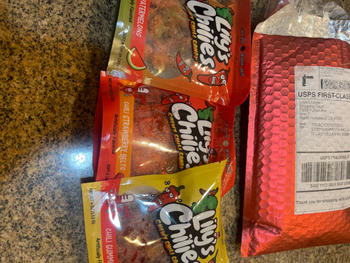 02/06/2023
Disappointed
Love the candy it's finger liking good, but disappointed! on the shipping!! As I'm in Las Vegas and was shipped from California and took 10 days to get here also only received 3 bags as in the photos of variety pack shows 4 bags
Issac C.

United States
10/20/2023
Good
The flavors are good. Could use more chamoy in my Opinion. But my gummy bears are all stuck together from the heat of shipping… not cool
Justine K.

United States
10/18/2023
Unimpressed
Taste was ok, not sure if it's worth the money if I could just sprinkle tajin and chamoy on any gummies and have the same product. Also would be more inclined to buy if it wasn't for all the red40 and Blue artificial food colorings.
Max C.

United States
09/04/2023
Delicious
Very tasty flavors
Christopher D.

United States
06/19/2023
satisfied
Sour patch kids, watermelon, peach, and apple are fire. The strawberry lacks strawberry flavor. The belts tend to get all tangled up and mushy - making it hard to eat. Have not opened up the gummies or blueberry yet.
Noe C.

United States
06/12/2023
Happy
Variety was perfect. I was able to sample my favorites and now I can purchase larger bags.
Shizel S.

United States
06/12/2023
My favorite candy!
This candy is so addictive, 3 bags are gone way too fast....but I only wish you were able to pick your flavors in the variety pack, I'd be buying weekly
Brianna

United States
05/16/2023
Delicious
First time I tried em couple weeks ago. They are so good!
Jeffery X.

United States
05/12/2023
Definitely ordering again
The candy was the perfect amount of sweet sour and that chili/tajin flavor
Mikail J.

United States
05/12/2023
Addictively delicious
I would order from this company weekly if I had some self control ! These are SO good I don't trust myself to eat proportionally . If you've been on the fence you've been warned ! AMAZING product, fresh, tasty and shipped v quickly.
Nicole F.

United States
05/12/2023
Spicy
Not to sweet but not to spicy. Strawberry is my favorite
Justin T.

United States
05/08/2023
Love it
They are very tasty and something new and different.
Jack X.

United States